UnEnchanted by Chanda Hahn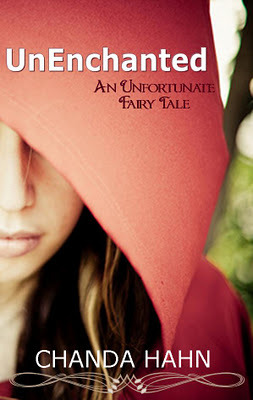 Mina Grime is unlucky, unpopular and uncoordinated; until she saves her crush's life on a field trip, changing her High School status from loser to hero overnight. But with her new found fame brings misfortune in the form of an old family curse come to light. For Mina is descended from the Brothers Grimm and has inherited all of their unfinished fairy tale business. Which includes trying to outwit a powerful Story from making her it's next fairytale victim.
To break the fairy tale curse on her family and make these deadly occurrences stop, Mina must finish the tales until the very Grimm end.
About the Author
Chanda Hahn is a New York Times and USA Today bestselling author of Reign An Unfortunate Fairy Tale. She was born in Seattle, WA, grew up in Nebraska and currently resides in Portland, Oregon with her husband and their twin children. She attended North Central University in Minneapolis Minnesota for Childrens Ministry. She was also a children's pastor, bookseller and children's librarian.
Books published by Chanda include the UnEnchanted series a.k.a. (Unfortunate Fairy Tale Series) and The Iron Butterfly series.